I recently finished reading Jay Cole's book, Things We Couldn't Say. It's a young adult novel, following up on the Cole's debut novel, Tyler Johnson Was Here. And I should probably admit that I bought a copy of the book because I know the author personally. So this is probably as good a moment as any to share that his clear preference was for readers to buy hard copies of the book, as opposed to buying e-books or checking out books from the local library. He claims that the benefit to the author is significantly greater with the purchase of hard copies. Anyway: as it relates to the book itself, I'm glad I took the time to digest this story. Even if it wasn't always a comfortable or easy book for me to read.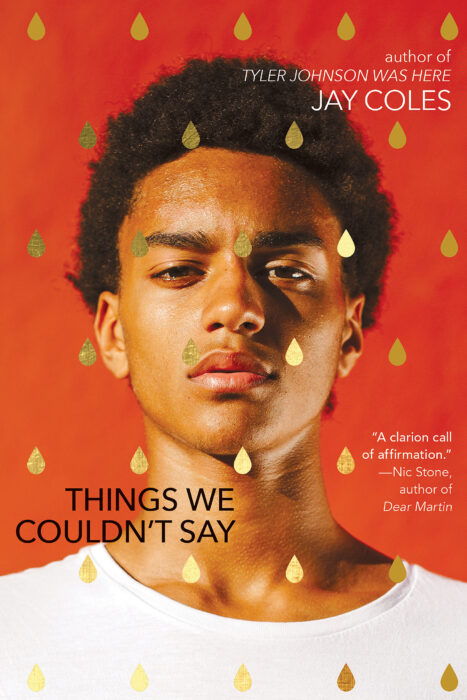 At the beginning of this year, I set a goal to read 5-10 books written by authors whose worldviews are significantly different from my own. Perhaps a different gender, ethnicity, nationality, sexual orientation, religion, etc. Things We Couldn't Say is my second such reading adventure. The author is African-American. And the story is told through the eyes of a bisexual teenager living in a struggling urban area.
The story mostly revolves around the family dynamics that have shaped the life of the story's narrator: Gio Xander. His step-mother is a caring and supportive figure in his life. His father is a preacher who struggles with alcoholism and with Gio's sexuality. And his birth-mother is most notable for her absence throughout the majority of the narrative. They all seem to care deeply for Gio. But they're also impaired from giving full expression to their affection for different reasons. Gio must decide how he will sort through questions about his identity in light of — and in spite of — his family's dysfunction. His friends eventually stand in as some of the most meaningful surrogates for the sense of "family" that feels so troublesome at home. But there are also some redemptive arcs among his biological family, too.
As with most young adult fiction, there's also a love story that slowly unfolds throughout the book. This book's primary love story is between Gio and one of the guys on his high school basketball team. I haven't read a lot of gay love stories or gay sex scenes. So, I have to confess that it felt a little awkward to get through the more explicit parts. But then again, the whole point of my diversity reading project is to confront awkwardness and increase understanding. I definitely found myself pulling for Gio throughout the story. But whether it was some sort of hidden homophobia or just the way that the character was written, I was less excited about Gio's boyfriend, David. He seemed two-dimensional and uninteresting. His story didn't feel as believable as Gio's story.
I will also say that I didn't love the way that this book ended. It felt abrupt. And the resolution between Gio and his birth mother was disappointing. Because it was actually a lack of resolution. It was a decision to live with tension. And even though that's how the real world sometimes works, I personally wanted more from the story world. Different readers probably have different feelings about such an unconventional ending. But I would have wished to come out of the book with a deeper sense of resolution. Even if it was just internal for the protagonist.
If you're interested in reading a young adult novel by a talented new author (whom I also consider a friend), I would recommend starting with Coles' Tyler Johnson Was Here. I found it more enjoyable and more meaningful. But this was also a solid sophomore submission. I'll be curious to see what Coles comes up with next.