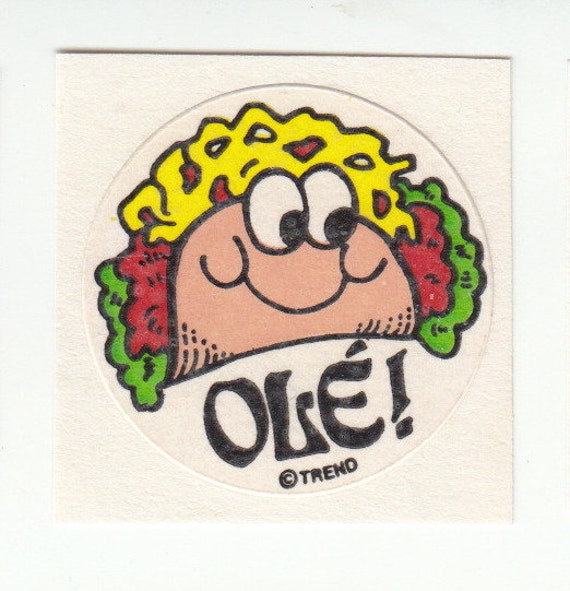 When I was a kid, I had a legitimate sticker collection. I mean, like, a whole photo album / scrapbook full of pages that were, in turn, full of stickers. The stickers were neatly spaced out, like baseball cards. My brother, my sister, and I built the collection out together.
I don't know whatever happened to that sticker collection, but I thought it was pretty special.
The Scratch-n-Sniff stickers were my favorite. For some reason, the one that stands out in my mind the most was the Scratch-n-Sniff Taco sticker that seriously smelled like cumin, chili powder, and paprika. Kind of weird, looking back. But the main goal of my childhood sticker collection was novelty. And those Scratch-n-Sniff stickers certainly fit the bill back then.
Albums of sticker collections fell out of fashion — both for my age group and for society as a whole — shortly after my elementary school years in the 1980s. But through my adolescence in the 1990s, people still put stickers on their cars, or miscellaneous stickers on their guitar cases. I just never felt ready for the permanence of stickers on a car. And I never played guitar. So stickers fell out of my life for a couple of decades.
In my middle-age of the 2010s and 2020s, however, stickers started to become more widespread again. Many people put them on their laptop computers and their reusable water bottles. But again, that felt too permanent to me — so I didn't embrace this new use of stickers like many of my peers (and younger generations) did. Still, I loved the way that stickers could tell stories. And I finally came up with the idea to put stickers on my journals… And it's felt like the perfect way to revive my sticker collection.
I get a new journal every six or seven months, generally, so they're just the right mix of "temporary" and "lasting." My journals are also the space where I record my thoughts, feelings, and personal stories — so there's something satisfying about matching the stickers of the exterior with the writings of the interior. And even when I'm finished with a journal, I hold onto it. I put it on my shelf and can take it back out to look at it whenever I want.
Good thing, too, because I've been especially fond of the sticker collection that I've amassed over the past six months. I've just finished the journal and the sticker collection, and I think this batch was an exceptionally good one.
My favorite stickers are the Theodore Roosevelt sticker in the middle of the front cover (acquired at the Theodore Roosevelt National Park) and the Seattle Space Needle stickers (see if you can spot them both!) on the back cover. I really enjoy them all, though. The stickers remind me of our family's epic road trip to the Pacific Northwest this summer… H2O's upcoming church plant to Youngstown State University… and my Portage County Hiking Quest, among other things.
This has been a lively, lovely season of life — especially notable following the darkness and discouragement of the COVID-19 Winter. I'm glad that I got to collect these stickers. And I'm glad that I get to start a new collection, all over again, now that it's time to start a new journal.