I've been listening to a new podcast called The Rise and Fall of Mars Hill. It describes the unique legacy of Mars Hill Church in Seattle, along with its pastor, Mark Driscoll. The entire life cycle of this church was relatively short: started in 1996 and shut down in 2014. Still, it's a powerful case study in church planting, leadership pitfalls, and the broader Evangelical culture in which these things take place.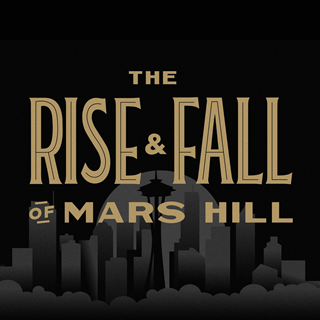 The "Church Growth Movement" is still with us. Large churches and their leaders / preachers are still the loudest voices in American Christianity. (And I think it's very important to think criticially about this). But more than prompting thought and emotion about present-day issues, I've found myself processing the story of Mars Hill Seattle through my years in Amsterdam.
There are some interesting parallels (and intersections) between Mars Hill and The Amsterdam Project, which I joined in the early 2000s. We operated on a similar timeline. We had similar visions of bringing orthodox Christianity to unorthodox settings in unorthodox packaging. Both Mars Hill and The Amsterdam Project wanted to forge a magnetic ministry presence in a world-class city. Both churches depended heavily on a charismatic leader with incredible talents in communication, team-building, and vision-casting — but also with incredible deficiencies in character. We talked a lot about a shift from "modernism" to "post-modernism" within the culture and within the church.
The whole premise of our work in Amsterdam has been reconfigured, as I've listened to this podcast.
Mark Driscoll and Mars Hill influenced the foundation of our Amsterdam years. Even more, however, Mark Driscoll and Mars Hill influenced the conclusion to our Amsterdam years. The arrogance and inflexibility of Mark Driscoll, especially. I saw it in the attitudes and actions of the young Dutch leaders who took the hand-off in church leadership, when our family returned to the United States. It shouldn't have been surprising (even though it felt that way at the time). They listened to so many Mark Driscoll sermons. They read so many articles and books from that corner of Christendom. And they were so young in leadership. As soon as they shifted to a Driscollian sort of "My way or the highway" rhetoric with the congregation, they lost them.
They didn't even make it six months in church leadership.
I find myself getting angry, as I listen to this podcast. The personal losses are compounded by the greater losses within the Church. At one point in the podcast, there even seems to be some insinuation that Mark Driscoll may have paved the way for American Evangelicals' obsession with Donald Trump: idealizing someone who "says it like it is," no matter how crass, how disrespectful, how hurtful, or how controversial it might seem. I hear echoes of this in the individual arrogance (camouflaging insecurity)… the name-calling… the fear of disloyalty and conspiracies… It really does feel like a surprisingly-direct line from Mark Driscoll to Donald Trump. And to the rest of my Christian brothers and sisters who now feel so enraged and estranged.
Still, I realize that it's not helpful to demonize any one individual or movement. There's plenty of pride and insecurity and imperfection to go around, certainly within my own heart. But it feels healthy to at least unpack these matters a little bit. So I'm grateful for Christianity Today and the work they're doing to share these stories.