I enjoyed the experience of trying to distill our family's trip from Ohio to the Pacific Northwest into a single hour. I chose an hour of togetherness. A focus on family (both historically and within our vehicle). And some particularly memorable experiences, with quirky characters in quirky settings.
When I tried to boil down our family's time in the Pacific Northwest itself, I chose an hour in Olympic National Park. It was a truly unparalleled setting: the snow-capped mountains of Rocky Mountain National Park, plus the rocky coast of Acadia National Park, plus the exotic rainforest of… I don't know… the Everglades? (I haven't been to many rainforests in my lifetime). And our hour on Olympic's Beach 2 was extra-special because it was unexpected. Peaceful. Restful. A moment of stillness on a vacation otherwise marked by activity.
Choosing an hour for the way back east, however, has been more challenging than I expected. I certainly had plenty of time to consider the possibilities, on that long road through Nebraska, Iowa, Indiana, and the like. I thought about an hour from our adventure-filled day in Idaho — but I couldn't pin it down to just one hour. Our time in Colorado was also lovely, and I could have probably talked about the European Cup soccer games we watched… or the breakfast at the Egg of Estes… But as lovely as those experiences were, they didn't seem to epitomize the entirety of that week traveling back to Ohio.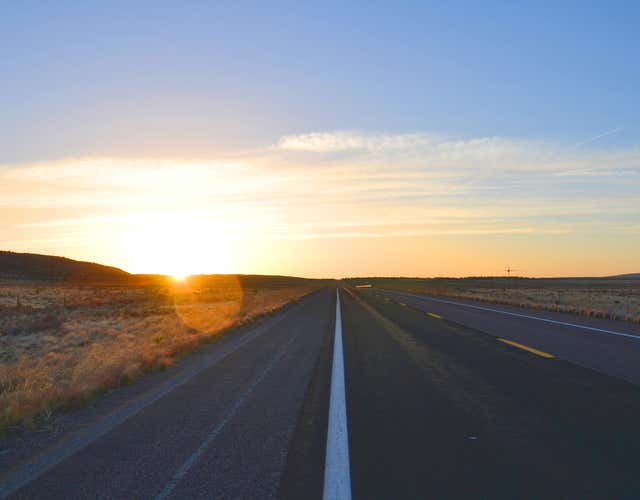 Finally, I decided that my favorite, most-distilled hour of the drive back east would be an hour from U.S. Route 20 through Idaho. It's apparently the longest highway in the United States, also known as the Big Daddy. And that seems appropriate, considering all the miles we put on our mini-van. The route is also very scenic, east of Mountain Home, Idaho. Mostly high plains, with snow-capped mountains off to the north. And it's delightfully desolate. A lonely strip of two-mile highway, where you can see forever and cruise at 80 miles per hour.
We pulled onto U.S. Route 20 about an hour after stopping for dinner in Boise. The rest of the family were settled into their own activities: napping, reading, listening to music. So I put on my own headphones and kept us zooming eastward.
I played a podcast episode from RadioLab called Breath. And the story nearly took my own breath away. It was reported with rigorous attention to scientific detail — but it also felt strangely spiritual. It talked about babies instantaneously switching the way they receive Oxygen, upon birth. There was a section when it talked about voluntary breathing mechanisms versus involuntary breathing mechanisms. The producers connected breathing to civil rights and the use of tear gas to control crowds. They talked about the way that the sale of breath mints and mint gum took a big hit over the course of the pandemic. The musicians' mystique of circular breathing… free-style rap… the relationship between twin sisters… I can't exactly capture what was so good about the podcast. It was just storytelling at its best. I was thoroughly engaged.
And as we hurtled eastward, as I listened to my podcast, the sun started setting in the western sky.
The countryside opened up into wide valleys grazed by cattle. Pronghorn antelope watched us speed past. One-hundred-year-old grain elevators rose from the plains, their corrugated metal siding the color of the pronghorns' backs. Sometimes, we had to speed up — near 100 miles per hour — to pass a slower vehicle. But the speed didn't feel even a little bit scary because we could see forever. At another point, we had to stop for some cattle to cross the road. We traveled like this for more than an hour. But I'd say that first hour on that highway was the best.
Our family loves traveling together. We genuinely do. But I think a big part of the way that works is that we're often alone, together. If that makes any sense. Marci might be napping. Olivia watching a YouTube video on her phone. Cor playing NBA Jam on the iPad. Elliot reading in the back bench seat. And me driving with headphones. We're all in our own little worlds, but we're also all together. It's just as valuable a part of the vacation experience as all the meaningful conversations and unique experiences.
So that's why I'm going to call that my favorite hour on the way back east. It wasn't sexy or sensational. But it was spectacular. And I hope to remember it for a long time to come.