My brother texted me this weekend to ask: "Have you ever ranked your top 10 (or top 5) favorite pies?" He said that he and his wife discussed the matter over breakfast. But he also said that it felt like the kind of conversation that he and I would have. I agreed with that sentiment — and since today also happens to be "Pi Day" (March 14, or 3.14), it seemed fun to consider this question more seriously.
In texting with Jay, I was able to pretty quickly realize that my top three would definitely include some kind of apple pie and some kind of rhubarb pie. But I wasn't as sure for the rest. Pumpkin pie? French Silk (chocolate) pie? I flipped through the "pages" of my mental "pie catalog". I seriously wondered if a top ten listing might include three different sorts of apple pie and two different sorts of rhubarb pie. As I worked out my actual Top Ten (see below), that guess proved to be pretty close — but not exact. Here's where I landed…
#1 – Marci's Crumble-Top Apple Pie
Such a classic. I've seen other places call this a "Dutch Apple Pie" — and even produce similarly-delicious versions. But Marci's reproduction of her family's recipe is my absolute favorite. A little tart, a lot sweet… It's best served warm, with vanilla ice cream (though that's probably true of most pies).
#2 – Marci's Rhubarb Pie
This is a Midwestern summer favorite! Ideally, it's filled with rhubarb pulled from one's own garden. The growing spaces around our house are a little too shady to allow rhubarb to thrive — but fortunately, Marci's Mom (who also makes a mighty-nice Rhubarb Pie) grows more on her farm than she can use.
#3 – Beckwith Orchards' Classic Apple Pie
I used to think that store-bought baked goods couldn't hold a candle to home-baked. But our local apple orchard, here in Kent, has truly changed my mind. Our neighbors brought us one of these pies when we moved into our house, and we loved it so much that we asked for the recipe. When they told us that it was purchased from Beckwith, we learned to find our way to their orchards and bake shop three or four times each autumn. (Note that the picture above features Beckwith's Caramel Apple Pie — which is also delicious but doesn't make my Top Ten).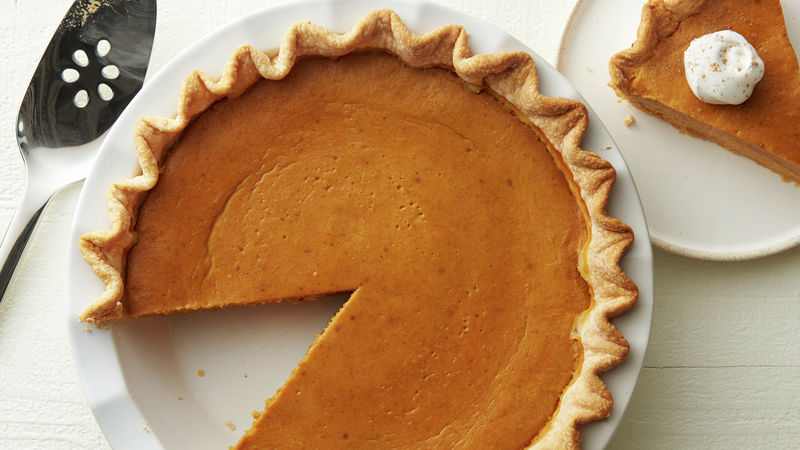 #4 – Louise's Pumpkin Pie
My mother-in-law is a wonderful host — particularly for the end-of-the-year holidays. Not coincidentally, her Pumpkin Pie just tastes like Thanksgiving to me. The recipe that she uses came from her grandmother, Fleta (a.k.a. "Little Grandma"). It's best served with freshly-whipped cream.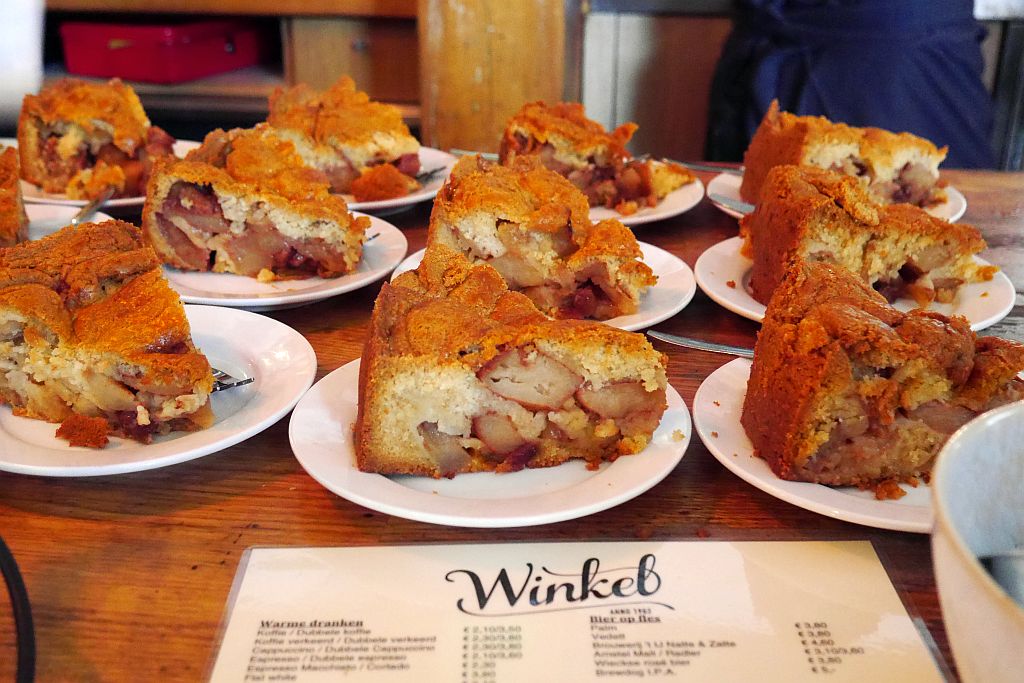 #5 – Cafe Winkel Appeltaart
When our family first moved to the Netherlands, we spent four months in an apartment in the Jordaan. Just down the street, there was an establishment called the Cafe Winkel. And I noticed that there were regularly large crowds on the outdoor terrace — even when it was freezing cold — with almost everyone ordering a slice of appeltaart and a coffee. Eventually, I followed the crowds and tried their cakey concoction for myself. And jeetjemina! It was zo good! I preferred mine with a generous helping of whipped cream and a koffie verkeerd.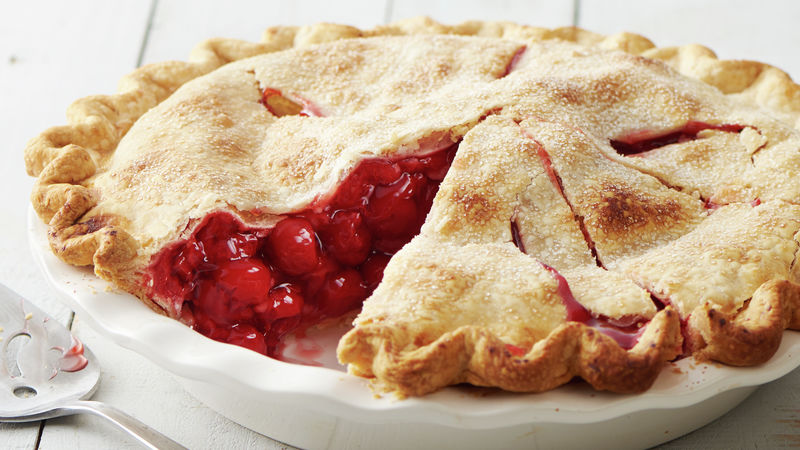 #6 – Louise's Cherry Pie
Marci's father regularly requests one of these for Christmas Day (even though I typically think of Cherry Pie as a summer dessert). The color is plenty-Christmassy, though, and the nice, bright flavor of the cherry filling certainly brings joy. Ross would have a very specific recommendation for a certain sort of French Vanilla Ice Cream to go along with it, but I really think it's Louise's Cherry Pie that really says, "Merry Christmas!"
#7 – Marci's Peach Crostata
We had this for the first time on Easter Sunday last year, and it was outstanding. Even though I've only had it twice now (the family talked her into making it again over the summer), it still makes my Top Ten list. It's a more rustic take on "pie," but I think it still counts. The texture on that crust was amazing!
#8 – Marci's French Silk Pie
I know I'm kind of weird in this, but I've got some general rules for desserts: (1) Fruit Ice Creams = Not so Good, (2) Fruit Pies = Good, (3) Chocolatey / Caramelly / Salty-Sweet Ice Creams = Good, (4) Chocolatey / Caramelly / Salty-Sweet Pies = Not so Good. Marci's French Silk Pie is definitely an exception, though. Hers has a meringue crust, and the chocolate and whipped cream layers are almost equal in height (it was hard to find a picture on the internet that looked exactly like hers).
#9 – Beckwith Orchards' Fruits of the Forest Pie
Honestly, I kind of feel like Beckwith's Dutch Apple Pie might be a little bit better than their Fruits of the Forest Pie — but after three other apple entries, I thought I would opt for the variety, here. And Beckwith's Fruits of the Forest Pie really is quite lovely! I associate this particular pie with our Staff Team's annual celebration at the end of all our beginning-of-the-school year activities. And that makes it all the sweeter.
#10 – Perkins Strawberry Pie
I learned to love Strawberry Pie when I spent a summer in North Dakota with my grandparents, Ezra and Marguerite Liechty. They knew all of the best diners across the state, where they'd regularly stop for a mid-afternoon cup of coffee and slice of pie. Strawberry Pie is another one of those that is closely associated with the summer (so this is where a second rhubarb pie ended up losing out). I can't remember the names of most of the diners to which they introduced me, but there was definitely a Perkins in Jamestown — and Perkins definitely has a decent Strawberry Pie.
---
In the text messaging interactions with my brother, Jay ranked Pecan pie as his favorite and Key Lime pie as his #3. Both of these seemed to be directly related to his years of living in Texas. So it occurred to me that my apple preference is also related to the time I've spent in the American Midwest and in the Netherlands. So I'm intrigued by the geographic / cultural connections between us and our favorite pies.
What are your favorite sorts of pies? Are you getting to enjoy any of them for Pi Day?