The UEFA Champions League will be determining the second of its finalists today. Liverpool F.C. booked its ticket yesterday and is now awaiting the winner of today's game between AFC Ajax and Tottenham Hotspur F.C. And it just so happens that I have a special relationship with all three of these teams.
In all honesty, I've never been that into professional soccer. I learned to enjoy it while I was living in Europe because it was a dominant form of "cultural currency." Especially when the Dutch national team was playing in the World Cup. In addition to that, though, I got to go to a couple of Ajax games at Amsterdam's ArenA — so they became my default "favorite professional team." And when Elliot got to join me in the front row of the stadium for a Champions League game in September 2010, that really cinched things. Especially for Elliot.
When we moved to the United States in the summer of 2012, however, we weren't able to follow Ajax as closely. My boys still loved playing youth soccer and talking about professional soccer because it was a way for them to stay emotionally-connected to their European experiences in childhood. But as the years past, and they assimilated further into American soccer culture — through further involvement with youth soccer and through playing FIFA on their gaming system — Elliot and Cor became increasingly interested in the English Premier League and eventually each chose a favorite team from the English professional clubs. Elliot went for Arsenal F.C., and Cor went for Chelsea F.C.
They started telling me that I needed to pick a team from the English Premier League, as well. But at first I resisted the idea. I told them, "Ajax is my favorite team. Isn't that good enough?" But they wanted me to pick a team that would more regularly play their favorite teams — so in the end, I relented and suggested that Tottenham Hotspur could be my "favorite" Premier League team.
I reasoned they were a London team, just like Arsenal and Chelsea. My old friend from Amsterdam, Sam, had grown up cheering for Tottenham Hotspur, and he seemed to speak of them as "lovable losers," like the Cleveland Browns — which sounded fun to me. But the real thing that made me suggest Tottenham was their logo and colors. I just thought their team had a good look.
When I told Elliot and Cor about this selection, however, they resisted. They said that Tottenham wasn't a legitimate selection because they didn't win enough. They wanted me to pick a top-tier team that would compete with Arsenal and Chelsea, year in, year out. So after further consultation, we landed on a group decision that Liverpool should be my "official" favorite team of the English Premier League. The boys allowed me to say that Tottenham Hotspur was a "close second," but that Christmas Elliot got me a Liverpool stocking cap to seal the deal.
So anyway, the reason I'm recording all this is that things shook out this year so that all three of my "favorite" professional European soccer clubs made it to the semi-finals of the Champions League!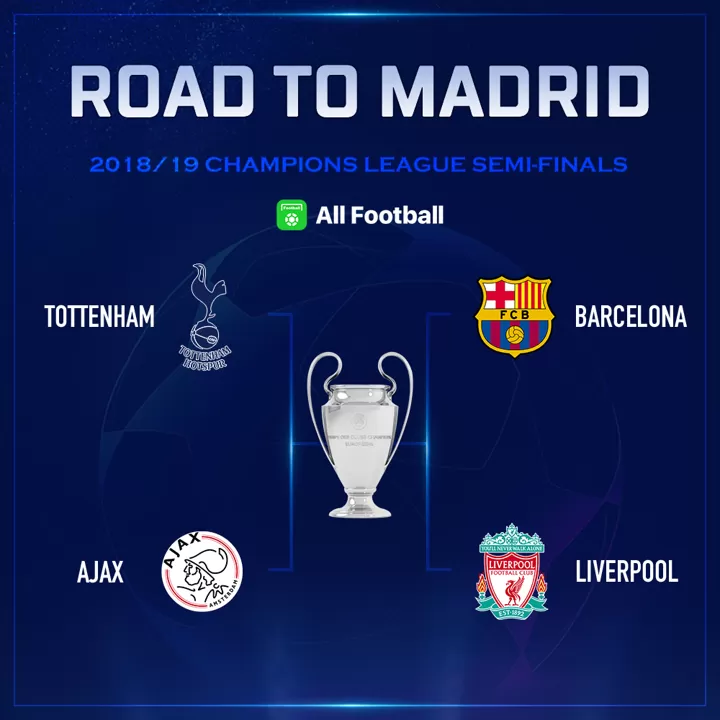 When I try to crow about this to my boys, they offer a valid rebuttal by asking me to name three players from each team (which is something that I consistently cannot do). Still, I feel strangely proud — and increasingly interested in the results of this year's championship.
In my heart of hearts, I'm hoping that Ajax will come out on top. But any of the three remaining teams would be fun. And no matter who wins or loses, my emotional investment is minimal.