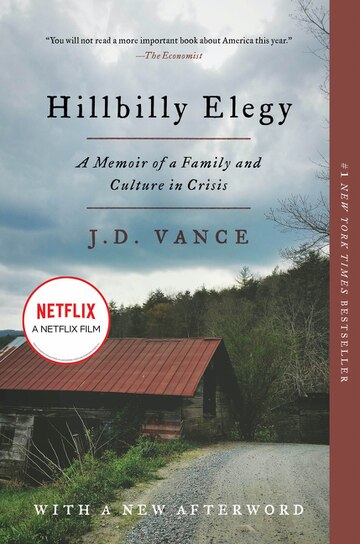 Hillbilly Elegy is a memoir by J.D. Vance. I first heard of it, on the news and in social circles, as a sort of peephole into "Trump's America," explaining why so many working class, rural whites resonated with the themes from Donald Trump's 2016 presidential campaign. The book explores issues of social class, family dysfunction, public policy, and education — but Vance's perspective is particularly interesting because of the way he came from a tribe of "hillbillies" but also found himself at home among Ivy League "elites" (his terminology), thus able to see multiple angles on the issues that seem to be at the forefront of America's ideological conflicts these days.
I enjoyed this book even more than I expected I would. I figured the material would be informative, but not so engaging. What I may have appreciated most was Vance's tone: neither indignant nor irreverent, simultaneously empathetic and critical, plain-spoken yet still articulate.
The author's world has a lot of similarities to mine, in that he grew up in post-industrial, small-town Ohio, went away to very far-flung environments (the U.S. Marine Corps, war in Iraq, the Ohio State University, and Yale Law School) to have his perspective widened and "come of age," before eventually deciding to return to Ohio to raise a family and engage in long-term efforts to improve the world. There also seems to be some level of Christian faith, albeit a different version of the fundamentalist faith of his youth. The Christian thing is not very explicit, and it only comes in at the very end of the book, with statements like, "I was exploring, however uneasily, the Christian faith that I'd discarded years earlier" and an assessment of the opportunities for another young man from Appalachia, wondering "whether he can access a church that teaches him lessons of Christian love, family, and purpose." I cannot definitively assess his theology — though I actually like it that he's not heavy-handed on this point — still, I do appreciate some of the ways that Vance's point of view resonates with mine.
It's especially helpful to have a guide like Vance, as he digs into deep-seeded, big-picture, societal issues like culture, social class, and generational patterns of family dysfunction.
I'm still not exactly sure what to do about the issues raised in this book (I'm not sure Vance knows either). It seems that it's simply a matter of fact that the issues of poverty, addiction, and abuse are highly complex. It's arrogant (and ignorant) to think that the issues can be "solved" in any easy way. Education may be a part of it. Learning to better "play" in the system to emphasize networking and cultural acclimation can help people coming from poverty. But all we can ever really hope to do is chip away at things on the micro-level: one person, one family, one community at a time. And I do feel motivated — even affirmed in my life calling — to be a part of this.
When I tend to think about social class complexities, I tend to feel embittered. I feel like I carry an outsized chip on my shoulder that doesn't necessarily correspond to my reality, and Hillbilly Elegy has helped to challenge that perspective. I don't know if I want my kids to go to Big Ten or Ivy League schools, but I can appreciate some of the advantages these places could provide (if my kids chose to pursue these avenues for education), and in any event I feel equipped and envisioned to teach my kids — biological and spiritual — how to put people first, lead with hope, and live with a spirit of gratitude and authenticity.