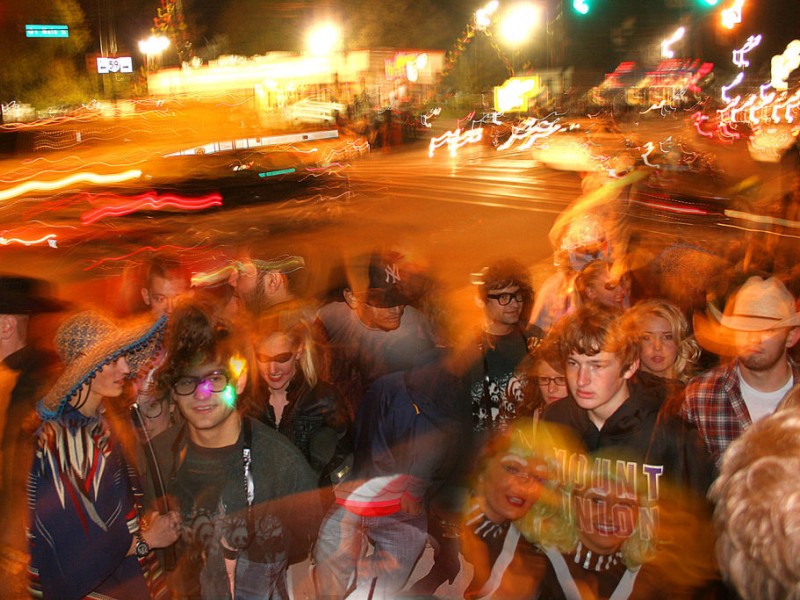 ---
When he saw the crowds, he had compassion on them, because they were harassed and helpless, like sheep without a shepherd. Then he said to his disciples, "The harvest is plentiful but the workers are few. Ask the Lord of the harvest, therefore, to send out workers into his harvest field.. (Matthew 9:36-38)
---
Greetings from Kent! It's been quite the fall here in Northeast Ohio, with the Indians making it to the World Series, unseasonably warm weather, and the spectacular display of fall foliage. Even in the midst of the sports excitement and beautiful leaves, however, my mind has recently been drawn to Isaiah 40, where it is written, "The grass withers and the flowers fall, but the word of our God endures forever." Even the greatest sports dynasties and "curses" do not last forever, and the leaves will most certainly drop in the next few weeks — but God's redemptive mission for the world allows us to be engaged with something eternal. Praise God!
In the second week of October, I spent a late night walking the streets of Kent, accompanied by a second-year student from Kent State University named Scott. We'd started with a larger group of people from H2O, praying and preparing pancakes to serve to the bar-hopping crowd, as a way of making friends and starting conversations. Gradually, our group was distributed two-by-two, drifting along the various corridors between the bars and the residence halls on campus. So as Scott and I walked east on Erie Street, we prayed that God might lead us to people with whom we could share His love and redemption. Every now and then we stopped to engage people in casual conversation. "What's happening?" to a group of rowdy young men.  "Are you doing OK?" to a young couple with the woman staggering and swerving badly across the sidewalk. Walk… pray… engage in conversation with strangers… walk… pray… engage in conversation between the two of us…
Over the course of our walk, I learned that Scott was thinking about changing his major. He had started his studies as a Film and Digital Media Production major, but he was feeling more and more interested in the idea of pursuing a career as a paramedic, or perhaps as military personnel engaged in search-and-rescue operations. We talked about the conversations he'd been having with his parents and with the boss at his current workplace (in video production). I tried to draw him out about the process for determining his next steps for the future. The most intriguiging element to this discussion, however, was a sort of search-and-rescue operation of our own that happened that very night.
At one point, while praying, Scott stopped abruptly. He said we should try to catch up with the young couple including the woman who we'd seen staggering and swerving across the sidewalk. He felt like something bad was about to happen with them, so we altered our course and started gaining on the couple who were making slow progress up the big hill at the front of campus. They were perhaps a quarter-mile ahead of us. We closed the gap in spurts, our pace slowed by spotting other acquaintances along the way. By the time we got within shouting distance of them, they were in a dark and deserted part of campus. We followed them into a sort of alleyway just behind Kent Hall, and when we were just a stone's throw away from them, the young woman collapsed.
We ran up to the place where she lay on the pavement and found her unresponsive, eyes rolled into the back of her head. Her pulse was still OK, and she seemed to be breathing without any difficulty; still, we called the Campus Police. And while we waited for help to arrive, we asked if we could pray for the young woman whose name we learned was Marley. Her companion, Mason, was visibly shaken, but he started to breathe more deeply as we asked God for His protection and power to be manifest in our encounter. Within fifteen minutes, Marley was on her way to the hospital, and Scott and I were walking toward downtown again, praising God for His guidance in the situation.
The following Monday, Scott and I had lunch at a sandwich shop downtown. "Has anything like that ever happened to you before, Scott?" He said that it had and described a couple of other such occasions to me. "Have you ever wondered if the 'search-and-rescue operations' you've been contemplating might be spiritual in nature?" I was careful to avoid any heavy-handed recruiting tactics, but it seemed that it might be worthwhile for Scott to at least consider a career in full-time ministry. We talked college and career decisions, family dynamics, and the Great Commission for another 45 minutes, and then parted ways again.
The following weekend, Scott attended our church's Evangelism Equipping event (this is the same event that I asked you to pray for in last month's prayer letter). Over those two days, all fifty of us were freshly envisioned to experience and express the love of God in our context. At the end of that weekend, on Sunday, Scott told me he is very seriously considering an internship with H2O as a next step toward exploring a potential career in spiritual search-and-rescue operations!
What's especially amazing to me is that all of this happened in the space of about ten days. Collegiate ministry can be such an adrenaline rush! I hope you're exhilarated as well, knowing that you're a vital part of team that allows us to walk with students like Scott. Thank you so much for your partnership in the Gospel. We'll be in touch…