It's been an exhilarating week. It's been an exhausting week.
Energy comes in waves during Welcome Week, and I try to ride the waves like a surfer. Adrenaline and the adventure of a new school year build, crest, and curl with each event. And then afterwards, I crash on the shore, emotionally and physically spent.
At the end of the week, I feel like I just need time and space to soak it all in. I feel a need to remember individual interactions: real-life stories that bring the collection of experiences to a personal level.
Leo, Julian, and Jose
Last Sunday morning was Freshman Move-In. That afternoon, I went with a team of students from H2O to the Beverly J. Warren Student Recreation and Wellness Center (shortened to either "The Bev" or "The Rec"). We hoped to make new friends among the incoming students.
We specifically hoped to interact with students from the Honors College and the Office of Global Education. Both of these organizations were holding events at the Rec that afternoon. Of course, this meant that the Bev was very full during this time slot. Still, the general public was still welcome to come in.
The Honors College took up two basketball courts for a hang-out area. They also ended up kicking us out of the indoor soccer space to set up a different team-building activity. There were limited opportunities for interaction with Honors College students as they were coming into the building. Once they got to the basketball courts, though, they functioned as an independent entity. They all clearly identified by their navy-blue, squirrel-logo, Honors College T-shirts. They didn't interact much with anyone outside of their Honors College circle.
In contrast to the Honors College event, the picnic hosted by the Office of Global Education was very open for H2O people to join. We were welcomed immediately to recruit people for an indoor soccer game (even though we quickly got ejected by the Honors College team-building activity). Even then, we got immediately absorbed into a sand volleyball game. Others from our group started kicking a soccer ball around in a circle, hackey-sack style.
We ended up in meaningful conversation with several different students from several different countries. We probably came away with six or seven phone numbers for further follow-up with these students.
Some of our new international friends even extended an invitation for us to join them at a soccer game the following evening. I took them up on their invitation the next night, stopping by with my kids. I enjoyed the chance to say "Hi" and watch, while Elliot tried to hang with the big dogs on the pitch. At the end of their game, three of the guys asked Elliot when his next soccer game was happening. Shockingly, they actually showed up five days later! They showed up even though they had to pay for an Uber ride across town and put up $7 apiece for admission! Leo (from Austria), Julian (from Germany), and Jose (from Spain) are becoming good friends. I look forward to deepening our relationship even further in the weeks and months to come.
Alisha and Seth
Monday morning was the Student Convocation. There's always a predictably-large crowd at the end of this event, as students transition from the MACC basketball arena to the Student Center Ballroom for lunch. We hand out our H2O promotional materials to thousands of students — which is useful exposure in its own right.
As students settle in for lunch, however, our ministry tactics shift from the "quantitative" to the "qualitative." We buy or bring our own lunch and find places to sit with students on Risman Plaza. All along the way, we pray for God to help us strike up conversation with "persons of peace" (Luke 10).
I immediately noticed an area in the shade where two students were eating by themselves, as I exited the Student Center with my food. They weren't interacting with each other or with anyone else among the masses of new students. So I asked if I might join them. They said yes, so I sat in between the two of them, to bridge the gap and create conversation.
Alisha sat to my left, and she said she was actually a second-year student: not a freshman. She just didn't have anything better to do, so she'd come down to the center of campus to see what was happening. She had a book with her, so we talked a bit about her favorite kinds of literature. And then I turned and tried to pull the student to my left into the conversation as well.
His name was Seth. Quickly, it became clear that his collegiate experience was off to a rough start. He hadn't really made any new friends yet. His roommate hadn't even checked in yet — and Seth worried that there might be some awkwardness because of sparse e-mail interaction leading up to the school year. I asked if he had gotten to know any of the other guys who lived in his residence hall. Seth bemoaned the fact that the previous evening's RA Meeting was purely logistical — not at all relational. I asked if he was looking to get involved with any student organizations. He shrugged his shoulders and said, "I don't know." He just sounded dejected and defeated.
He didn't seem to have any interest in spiritual things, as I probed further. So I decided to just affirm him and encourage him, as I stood up to leave. "You seem like a nice guy," I said. "I hope things turn around soon for you."
At Wednesday evening's Blast-Off event, the crowds were every bit as large and dense as the Convocation crowd had been on Monday. But somehow, Seth and I managed to bump into each other again. I was doing surveys in front of the H2O table. When I saw Seth, though, I greeted him warmly. I asked if things had been going any better with his roommate and residence hall relationships. He said it was going OK. Better than it had been at the beginning of the week.
I had a stack of surveys in my hands, so I held them up for him to see. I asked, "Would you like to fill out a survey for H2O, Seth? You get some free pizza out of the deal."
He shrugged and said, "Why not?" It took him a minute or so to fill out the survey. When he handed it back to me, I was surprised (and delighted) to see that he had checked the box saying, "I have questions about Christianity and would like to meet with someone to discuss them." In the course of just three days, he had gone from complete disinterest to at least a marginal level of interest. He opened a door that will allow me to follow up with him in the next couple of weeks. I'm praying that Seth might eventually be able to begin a relationship with Jesus. And I hope he finds friendships with other students at Kent State, too.
Martin and Josh
Monday night, the University hosted a "Late Night College Skate." There was a surprisingly-high amount of activity on campus during these hours. Clumps of 5-15 people were wandering just about everywhere on campus. The University Library seemed to be hosting another event that seemed well-attended. And, of course, the Ice Arena was also jam-packed with students. They lined up, perhaps 60 or 70 students deep, to rent skates and get out on the ice. No one from our H2O team even attempted to get skates or go out on the ice. Still, we managed to make some good conversation with people in the lounge and in the bleachers overlooking the ice.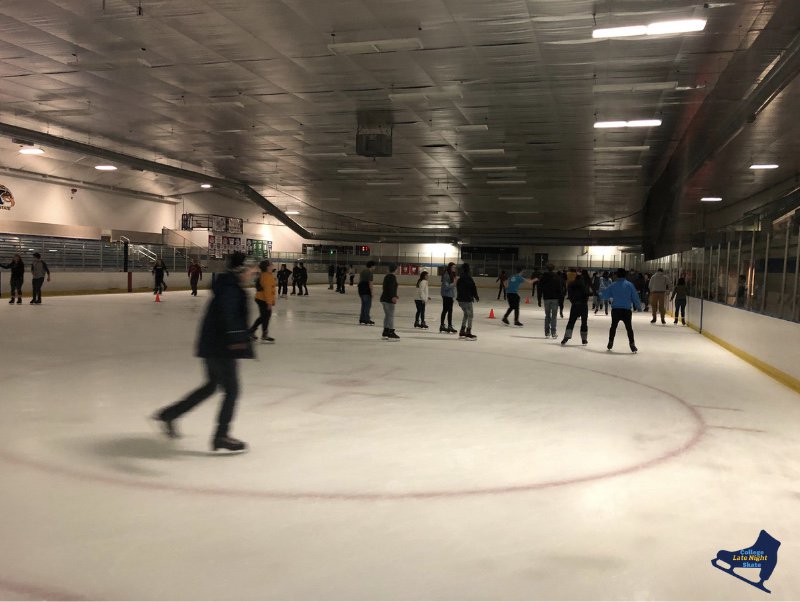 One of my favorite connections that night was with a guy wearing shorts and flip-flops. He was looking down on the ice from the bleachers on the second level. I made some comment about the cold and his courage to laugh in the face of "winter," and we struck up conversation. His name was Martin, and he was an exchange student from Brazil.
We talked about the weather in Ohio and the weather in Brazil for a little while. I asked how he had decided to come to Kent, from Brazil. He reciprocated to ask what I doing in Kent. So, I told him that I worked with a Christian student organization called H2O. Martin was remarkably open to spiritual conversation. He's culturally Catholic, but he said he doesn't feel too locked into that religious framework. He told me he reads his Bible every night because he just finds it so beautiful. But he still wants to learn more about what it means.
Martin's friend Josh (an American architecture student) came up to join us at this point in our conversation. I didn't know Josh, but it turned out he had been to H2O a few times in the last couple of years. We talked about some of the H2O events coming up on the calendar, and I encouraged them to join us. It just felt like a good connection, albeit small and subtle. I hope to see Martin and Josh again sometime soon.
It's kind of crazy to realize how we're just the first few "pages" into the "book" of this new school year. I don't know where any of these stories are headed. In fact, it's entirely possible that the major "characters" and "plot lines" haven't been introduced yet! But I'm excited to keep going.