I haven't been great at writing about events as they happened this year. Nevertheless, there have been some great moments in 2017. I've spent some time over the last couple of days thinking through the most significant happenings of the past twelve months, and I thought it would be fun and fruitful to distill the essence of them here.
Early in the new year, in February, I celebrated my 40th Birthday — and I did it in style (if I do say so, myself) with a Disco party fit for 1977. My beautiful wife worked hard to make that Saturday night a really fun, memorable occasion, so I thought out of all the fun pictures from that night, it was most appropriate to post this one of the two of us.
I've really been encouraged to watch God develop a team of people from Kent (Ohio, USA) to be sent out to Stockholm (Sweden) for the sake of making disciples and planting churches. I started praying in just such a direction way back before I ever moved to Kent (at least since 2011). I witnessed some of the first seeds of this particular initiative get planted in 2015. And now the lead couple — Aidan and Chelsea Rinehart — are on the ground in Stockholm, preparing the way for the rest of the team to hopefully join them in the year (or years) to come.
In early June, I got to take an epic road trip from Ohio, through Indiana, Illinois, Wisconsin, Minnesota, South Dakota, and Wyoming, to Colorado. The solitary drive time provided invaluable space for introspection, but I also got to meet up with some dear old friends along the way. The scenery along the way was spectacular — especially the wheat fields of Iowa, the rolling plains of Custer State Park in South Dakota, and the delightfully-desolate highways of Wyoming — and it all ended in four days with my co-pastors in the Rocky Mountain National Park, working through all our plans and prayers for the 2017-18 school year.
The summer was special, in general, because of all the extra time with family. Marci and I celebrated our 19th wedding anniversary with a trip to Ohio's Hocking Hills in May. We took a family vacation by the shores of Lake Erie in late June. And we celebrated my Dad's Retirement with an extended family gathering in late-July, featuring a party, a day at the beach, a baseball game, and lots of Handel's ice cream.
Towards the end of the summer, I got to travel to Iceland with two of my oldest, dearest friends: Chad Frank and Jason Slack. The days were incredibly-long, and we packed them incredibly-full — but wow! What an experience! Iceland is one of the most beautiful places I've ever seen with my own eyes. And to experience everything with Chad and Jason was especially meaningful.
All of my kids grew a lot over the course of 2017. With Cor, I think particularly about his recovery from a broken collarbone and the removal of his braces, at the end of August. He's such a fun kid. He has such a warm heart. He endured his challenges like a champ, but it was fun to see him bounce back into full form as these constraints came off at the end of the summer.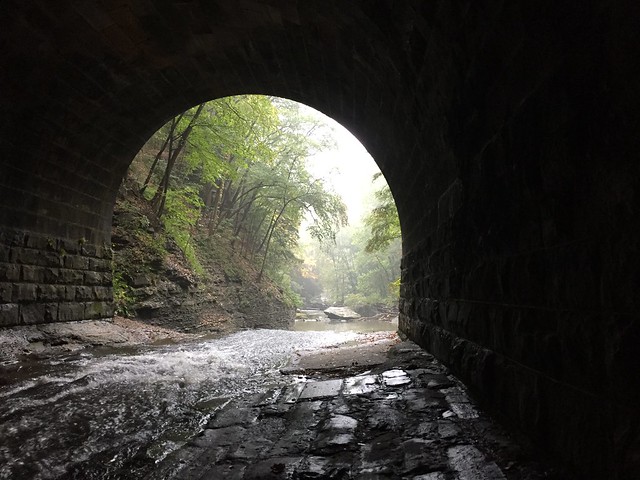 In the last third of 2017, I found refuge and refreshment in new corners of the Cuyahoga Valley National Park. I feel like God spoke to me in deep, meaningful ways through my Friday ritual of "coloring in" a new section of trail on my map, week after week. It's still amazing to me that this beautiful window into God's Creation is so accessible here in Northeast Ohio. I sincerely liked all of the different places and seasons I experienced, but the "back door entrance" to the Great Falls of Tinker's Creek might have been my personal favorite this year.
The Fall Semester at Kent State University was a doozy this year. Absolutely breath-taking: both in terms of the beauty experienced in ministry and in terms of the way I felt out of breath at times, in all the action and adventure. The H2O Fall Retreat was a particularly amazing experience. We had record numbers of students attend the weekend conference and demonstrate signs of genuine life transformation.
Elliot got his learner's permit at the end of September — and seeing him behind the wheel of our family mini-van just seemed to be emblematic of all kinds of personal growth throughout 2017. He's taken well to driving, and I have a lot of confidence that he will succeed in becoming a licensed driver in 2018. But in addition, he joined a missions trip to the Dominican Republic in the summer. He took a girl to Homecoming in October. And it just seems to me that he's generally looking at the world with more adult eyes: offering help around the house, taking responsibility in his various spheres of influence, and trusting God for new areas of development.
We celebrated Olivia's entrance into adulthood with her 13th birthday in September, and we're really proud of the young lady she's turning out to be. She started singing in the school choir this year — a break from the path her brother had blazed for her in the band program — and she has already been featured with several solos and special parts, starting with her first concert at the beginning of October. Her future is bright — in music, in academics, in art, in social development, and in her heart for God.
It's hard to narrow things down to the Top Ten images / events / developments that happened in 2017… But I consider that a blessing and a privilege. Life has a funny way of speeding up and slowing down. This year was definitely a fast one, but a good one. I'm already looking forward to seeing what God will do in 2018…